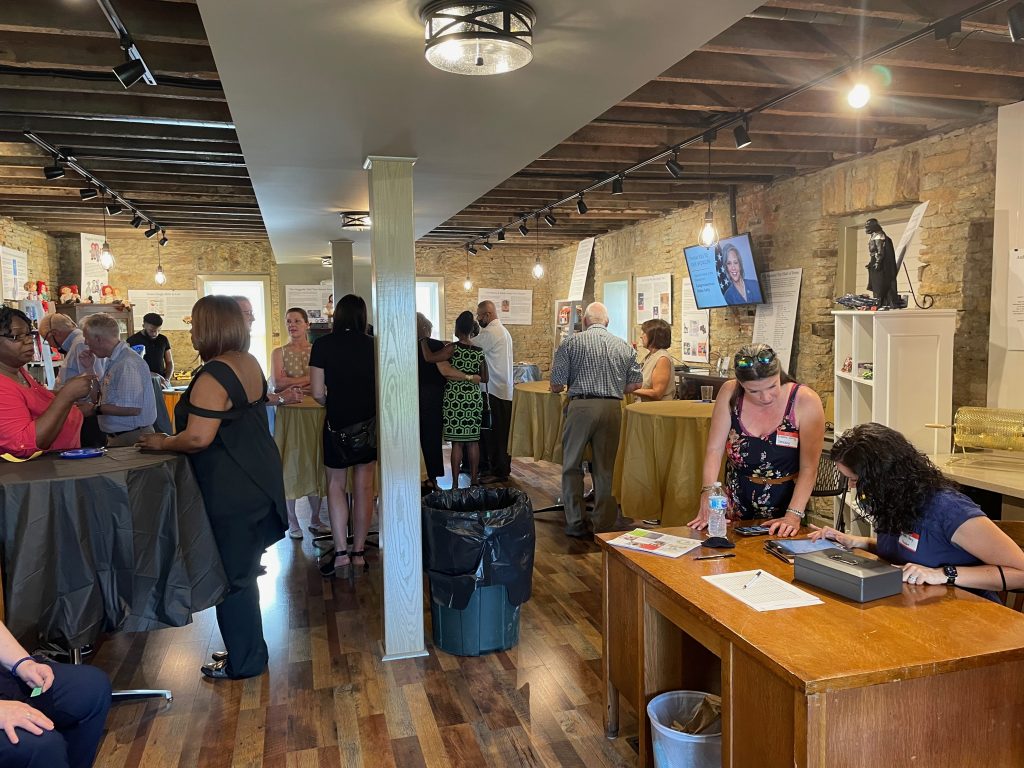 Monee Historical Society Hosts the 201u Education Foundation's Spring Fling
On May 14, the Monee Historical Society hosted the Crete-Monee 201u Education Foundation's Spring Fling at the Heritage Center.
After several years of inactivity, the Education Foundation is back under new management, with Jamie Healy of Crete as its president and the Rev. James Hunt of Monee's New Hope Community Church as its vice president. The Foundation is an independent 501(c)(3) not-for-profit corporation that solicits and raises funds to enhance and enrich the programs, activities and facilities to enhance academic excellence at District 201-U.
The Education Foundation's Spring Fling was attended by members of the Foundation, members of the Historical Society (including President Christi Holston, Margaret Horne, David Holston, and Phyllis Huffman), Monee Mayor Dr. Therese Bogs, Village Trustees Heidi Gonzalez, Michael Wilson, and Doug Horne, representatives from the Village of Crete and Townships of Monee and Crete, residents, and more.
Those supporting the event were surrounded by the Monee Historical Society's exhibit on the toys of yesteryear, which includes children's toys from decades throughout the 20th Century.
Drinks were served, and guests were invited to play in the Foundation's ongoing Queen of Hearts game or bid on items in a silent auction. Monee residents of the past may remember that the earlier incarnation of the Foundation held a Wine & Cheese Fundraiser.
Monee has been a part of Crete-Monee School District 201-U since 1948. According to Muriel Mueller Milne's Our Roots Are Deep: A History of Monee, Illinois:
Schools in the vicinity of Crete and Monee in order to keep pace with the increasing development of the area voted May 15, 1948, to form a single unit. The fifteen boards of education which served the separate districts ceased to exist July 1, 1948. The new district was designated as District 201-U by Louis Bottino, Will County superintendent of schools….
In addition, Dr. Kara Coglianese, the superintendent of Crete-Monee School District 2o1-U, graciously serves on the advisory board for the Monee Historical Society, helping guide the MHS into the future and provide greater connections between the MHS, the Heritage Center, and area schools and schoolchildren.
The MHS looks forward to hosting more events in the future!